Pan-European sponsorship campaign
BRIEF : Announce SEAT's sponsorship of the UEFA Europa League using a multichannel campaign: radio, press, digital, plus TV sponsorship idents. A late curveball meant that the radio campaign, aired on TalkSPORT, had to multitask – showcasing the new SEAT Exeo at the same time. 
RESPONSE : James Alexander Gordon, the voice of the football scores for a generation, nails it. And the radio spots went on to be shortlisted at Cannes.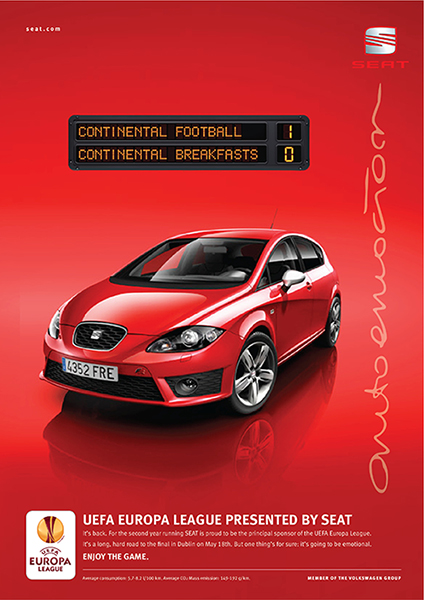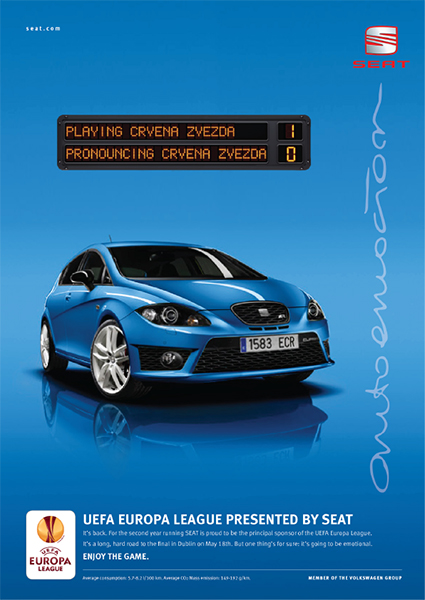 BRIEF : The brief for the TV idents came with two more curveballs – 1) A lack of time meant we had to use stock footage, and 2) The idents had to work in several European languages.  
RESPONSE : By having each car radio emit scripted match commentary it allowed the idents to be seamlessly re-dubbed. To make the spots more situationally relevant, each script was written in line with how a game might unfold, and the spot's placement within the match. Finally, to represent the pan-European nature of the competition and contrasting commentator perspectives, some idents featured more than one language. After all, football is about emotion – if the mood is captured authentically, some things just don't need to be translated.